Be it by rail, road, sea, inland waterways, pipe or air, the transport and logistics sector is the linchpin that keeps the UK moving, physically and fiscally. In fact, as an island nation, the movement of goods – or logistics – is critical to our very existence, with the value of imports and exports worth £48bn and £51bn respectively. The movement of people – or transport – also racked up 873 billion passenger kilometres in 2019 alone according to the Department of Transport.
Of course, this figure plummeted in the wake of the pandemic. But with the sector's steady return to pre-pandemic levels comes a considerable set of challenges. The transit of people and goods in a post-Covid, post-Brexit world is more complex than ever before, with evolving consumer demands and behaviours, rising costs and shrinking margins. All against the backdrop of the sector's need to combat its status as the UK's largest emitter of greenhouses gases prior to the pandemic. 
Read more to discover some of the ways you can be better connected.
To succeed and thrive, organisations need to become more resilient, agile and productive. Advanced connectivity solutions – and the digital technologies they power – can be the key to unlocking a more efficient, sustainable future for transport and logistics. But while more benefits and use cases emerge every day, the road ahead won't be without its challenges on the journey to adopting, implementing and maximising the true potential of digitisation.
UKTIN is here to help transport and logistics organisations, of all types and sizes, find the right resources and connections to map a path to 5G. So you can embrace added efficiency, flexibility, resilience and security, to drive the sector forward, empower people, and put our planet first in today's increasingly digital world.
Benefits of 5G in Transport and Logistics
Unprecedented insights for smarter operations
5G provides a layer of insight not previously possible, for smarter, more productive operations. Its high bandwidth capability enables a greater density of sensors, meaning more data – and with machine learning, greater and quicker insights and analysis. Monitoring occupancy levels on public transport facilitates dynamic scheduling, improving passenger experiences and optimising costs, while smart rerouting can minimise delays and optimise journeys. 5G also allows a far greater density of sensors, providing a granularity of insight that can be the difference between tracking a shipping container and tracking every item in the shipping container, taking the guesswork out of logistics.
In terms of infrastructure, 5G allows for the real-time collection of huge environmental data sets, powering digital twins that can simulate entire ports, airports, rail networks or potential changes to a transport network.
Support safer and more efficient travel across land, sea and air
5G's increased bandwidth and reduced latency enables high-quality video monitoring, vehicle-to-everything (V2X) communications and real-time control of operations. Operators can better monitor vehicle and railway safety, intelligent control systems can redirect traffic in real-time away from traffic or hazards, advise on optimum speeds to reach green lights, and prioritise emergency services traffic and delivery vehicles.
V2X communications can also help to protect all road users – especially the most vulnerable – with cyclist and pedestrian alerts, notifications of accidents ahead, junction assistance and ultimately, cooperative manoeuvres between autonomous vehicles. 
Drones can also be deployed to conduct vital safety inspections and checks to ensure the safety of passengers and minimise dangers to workers – increasing efficiency, reducing disruption and ensuring safer journeys for everyone, no matter your mode of transport.
Reduce environmental impacts
More than any other sector, transport and logistics has a duty to reduce its environmental impact. 5G can play an important role, with its ability to power sensors and connected IoT devices that can monitor, calibrate and adapt transport systems. Intelligently controlling traffic to ensure vehicles aren't held in queues and optimising freight routes can ease congestion and idling, helping to reduce CO2 produced by traffic jams. Similarly, predictive maintenance can ensure vehicles spend are kept in premium conditions, associated with less hydrocarbon, carbon monoxide and nitrogen oxides emissions. Remotely controlled drones for last mile deliveries could further reduce road miles and subsequent carbon emissions. Making public transport more efficient, more comfortable – and therefore more appealing – can further aid the easing of congestion across our towns and cities.
Futureproof transport & logistics
In a digital-first world, with smart vehicles, cities and depots, 5G supports the volume of data that needs to be shared, at speed, between vehicles, rolling stock, ships, aircraft, infrastructure and people. In addition, while self-driving vehicles still require a human safety driver, the low latency and ultra-reliability of 5G allows for a single operator to manage multiple vehicles remotely, helping to tackle skills gaps and reduce costs. 5G also enables the experiences that passengers expect, powering digital technologies and providing information in a highly personalised, real-time manner over a reliable connection – improving accessibility, increasing passenger numbers and boosting confidence across multi-modal journeys in the process.
Improve security & resiliency
Transport and Logistics organisations need certainty that the networks and connectivity they deploy will maintain a stable and secure connection at all times. If data is compromised or lost, supply chains can very quickly become disrupted and delayed. It's particularly important to ringfence mission-critical data flows in environments such as public transport, where members of the public or other users will be accessing the network. Network slicing allows these organisations to effectively preserve the passenger experience without jeopardising the quality or safety of a digitally-enabled transport service and its workers.
Improve connectivity with a single, scalable, dynamic network
5G allows organisations to create a universal, flexible network across physical locations, rather than assorted networks and inconsistency or patchy connectivity. This makes it easier to manage networks holistically and grant access to third-parties in the case of remote maintenance, training or security. Compared to existing solutions, 5G also makes it easier to share data across multiple sites and organisations. This supports seamless collaboration and innovation, helping to close the skills gap in logistics management, and level up the UK's transport and logistics sector as a whole.
It's true that not all of these benefits are instantly accessible, but as 5G matures and innovation continues we expect to see these open up to the Transport & Logistics sector. 
The UKTIN Transport & Logistics Expert Working Group is a group of voluntary experts brought together to consider key opportunities to capitalise on the benefits of advanced connectivity across transport and logistics.
Our Supplier Directory introduces you to find a range of organisations who can help you design and deliver connectivity solutions, including those who specialise in working with manufacturers.
Read our straight-forward guide.
Image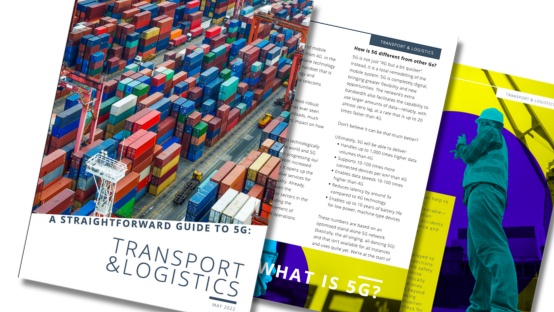 Read our in-depth guide on how.
Image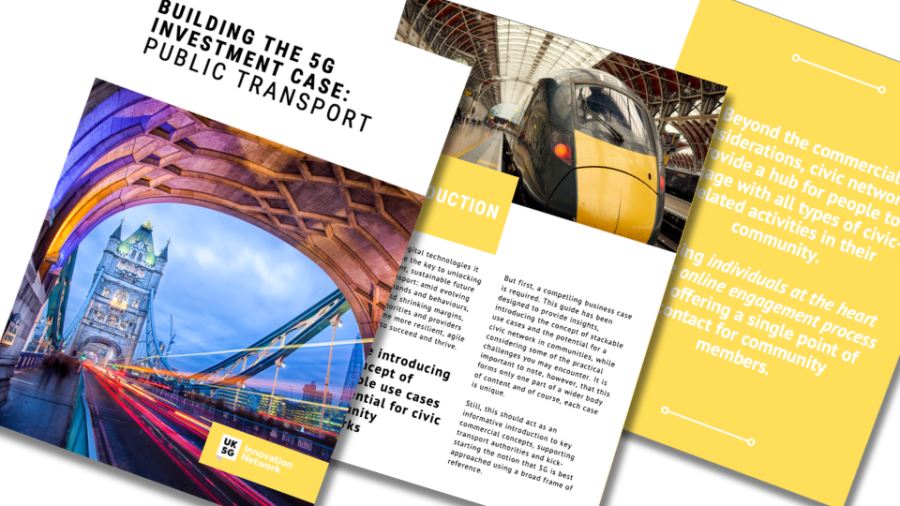 Resource
Unlike the move from 3G to 4G, the transition to 5G has been fairly seamless. It is expected that 5G coverage will have reached 60 per cent of the world's population by 2026, making it the fastest ever mobile network deployment.