Few sectors, if any, have been subject to as much sweeping change – and strain – as health and social care. In the wake of the Covid-19 pandemic, the essential services in this sector saved countless lives and kept the UK going. But beyond the challenges presented by the crisis, not least the burgeoning backlog, it also served as an incredible accelerator of digital transformation across the sector.
Such is the scale of this transformation, 99% of NHS England GP practices are today able to conduct video consultations, up from less than 10% pre-pandemic. Journey back as recently as 2017, however, and only 54% of NHS England trusts reported their staff could rely on their digital records for the information they needed, when they needed it.
Despite significant progress, lack of digitisation and connectivity still exists within the sector and is far from the only challenge it faces. The UK's ageing population and rises in complex comorbidities mean more than 70% of the NHS budget is used for long-term condition management. In social care too, demand for services is increasing, there are pressures on budgets and there are significant concerns around recruitment and digital skills. 
Read more to discover how we can instill a new way of working in the UK.
Clearly a new way of working is needed as the UK moves towards offering 'joined up' care experiences for patients and care receivers, to improve patient outcomes and put less strain on services. But, while vital, this transition to population health management (known as Integrated Care Systems in England, the Population Health Directorate in Scotland, the National Centre for Population Health & Wellbeing Research in Wales, and the Public Health Agency in Northern Ireland) is undeniably complex.
Faced with the above, this vital sector that employs over 1.3m people and cares for tens of millions more is under mounting pressure. Advanced connectivity solutions – and the digital technologies they enable – can support the desire to realise more people-centric care, transition from a reactive to preventative model, and move the delivery of care from clinics to communities. All while unlocking the efficiency, resilience and flexibility required to meet the UK's ever-growing health and social care needs.
UKTIN is here to help the health and social care sector find the right resources and connections to map a clear path to digitisation. In turn, granting access to the digital tools, skills and resources that will empower health and social care professionals to change how and where they deliver care, make the everyday less laborious and more rewarding, and ensure the UK population can benefit from more efficient, personalised care.
Benefits of 5G in Health and Social Care
Enable more inclusive, accessible care for all
5G's increased bandwidth and reduced latency supports multiple technologies and services at the same time, over the same network. For the NHS, video streaming and the sharing of medical imagery in real-time enables long distance consultations, training, collaboration and support – driving efficiency, reducing costs and pollution associated with travel, and ensuring patients are seen in a timely manner, in an environment that suits them. In medical manufacturing or logistics, 5G allows for more accurate tracking, monitoring and remote development of vaccines, gene therapies, cancer treatments and other vital medicines.
In social care, 5G supports the many sensors that are used for care workers to monitor welfare and health in the community for both patients and the vulnerable. This ensures essential services can not only continue as 2G, 3G and analogue connectivity is phased out, but also be expanded to support medication adherence, predictive monitoring and tools to tackle social isolation and loneliness.
Overall, 5G's capabilities will support a broad-scale decentralisation of health and social care, as services shift from primary care settings towards a more distributed, preventative-focused model of care.
Data-driven insights for smarter, more efficient care
5G enables a layer of insight not previously possible, for smarter delivery of care. Enhanced layers of analytics facilitate the capture and analysis of metadata, which can be used to drive efficiency and prevent bottlenecks in health and social care systems. In addition, this data can provide insight into large-scale medical emergencies or emerging trends, to help tackle national incidents – such as the Covid-19 pandemic.
Operationally, this data can be used to inform predictive maintenance of telehealth equipment, sensors and more, ensuring care can be consistently delivered. A core part of duty of care is the protection of patient data. 5G's enabling of insight and analytics powers more intelligent, secure and privacy compliant data management processes – another vital concern for the sector as it embraces digital transformation.
Strengthen the security and resiliency of NHS and social care networks
In health and social care, reliable, consistent connectivity can very easily become a matter of life or death – and at the very least, it can affect a patient's healthcare outcomes. 5G allows care providers to ringfence vital data flows and connections whenever needed, to ensure they're not affected by spikes in usage across the rest of the network. What's more, 5G allows for specific spectrum channels to be configured with increased security protocols, ensuring the right connections are appropriately secured.
Digital transformation and the disruptive changes it entails can be an understandably daunting prospect for stretched frontline workers.  With 5G's guarantee of reliability, security and privacy, trusts, local authorities and medical professionals can have trust and confidence in the performance of advanced connectivity and the benefits it can bring.
Increase connectivity for all with dynamic, scalable solutions
5G is a dynamic, scalable network platform that adds connectivity to health and social care networks, easily connecting complex sites, third-party organisations and remote medical workers, while providing the reliable connectivity required for telehealth services. 5G also enables essential integration and cross-department interoperability, connecting small and medium-sized private providers and the interwoven layers of specialisms that make up the NHS and social care.
Furthermore, some health and social care applications, such as monitoring in the home, need service-level agreements that would be cost prohibitive or unavailable under commercial agreements. 5G enables the creation of private networks, either within hospital settings or communities, making services accessible to all, and offering a more affordable alternative to high bandwidth charges over commercial networks.
It's true that not all of these benefits are instantly accessible, but as 5G matures and innovation continues we expect to see these open up to the Health and Social Care sector. 
The UKTIN Health & Social Care Expert Working Group is a group of voluntary experts brought together to consider key opportunities to capitalise on the benefits of advanced connectivity across health and social care.
Our Supplier Directory introduces you to find a range of organisations who can help you design and deliver connectivity solutions, including those who specialise in working with manufacturers.
Read our straight-forward guide
Image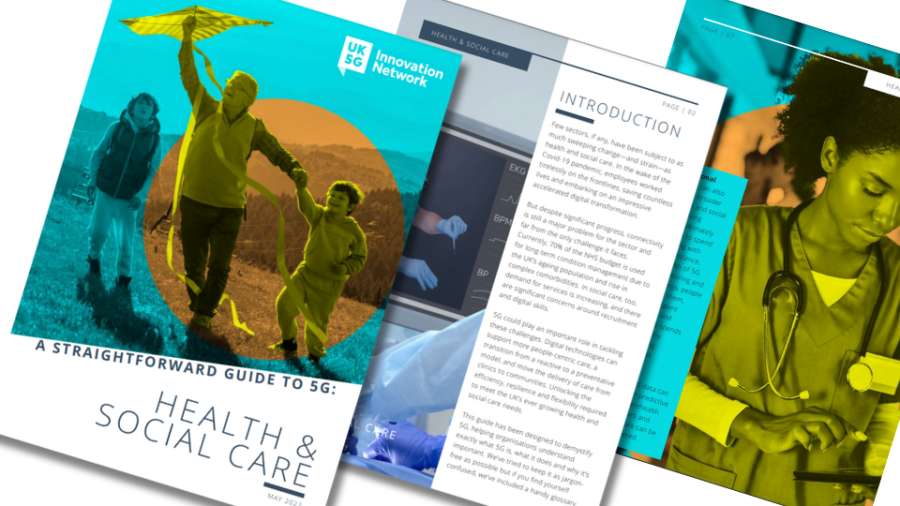 Read our detailed guide
Image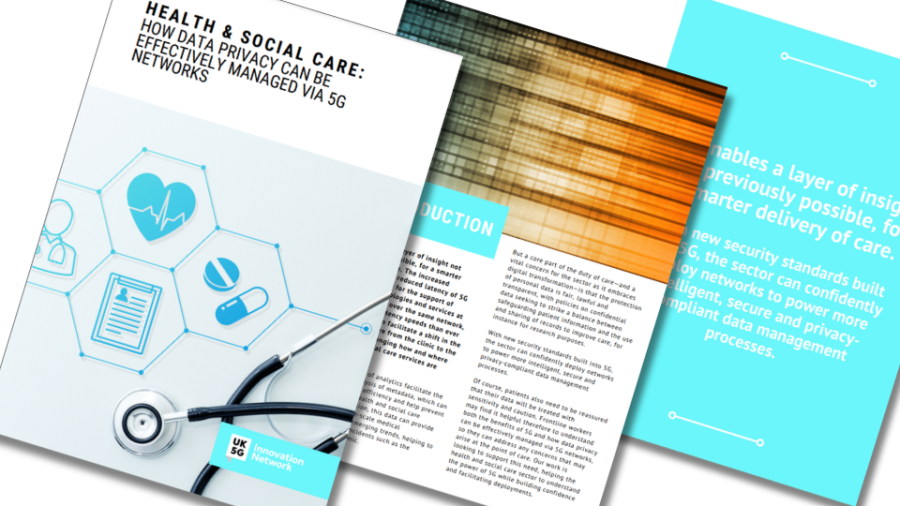 Resource
Unlike the move from 3G to 4G, the transition to 5G has been fairly seamless. It is expected that 5G coverage will have reached 60 per cent of the world's population by 2026, making it the fastest ever mobile network deployment.