Semiconductors play a critical role in telecom infrastructure, from capturing images and data to encoding, encryption, transmission, reception, decryption and presenting data to the user. As we explore new ways of working and visualising the world, semiconductors will play an increasingly important role in telecom networks, ensuring that data is sent and received efficiently and securely.
The telecom industry was the first major user of semiconductors with the introduction of digital exchanges in the 1960s. Semiconductor companies have continued to innovate since then, providing ubiquitous connectivity, high data rates and services that provide a rich user experience. 
Increasing data usage and energy consumption coupled with security challenges present significant threats to the network that require new semiconductor innovations and more resilient supply chains. As a world leader in research and innovation, the UK is well positioned to lead and commercialise these innovations, helping to create advanced telecom services and next-generation networks.
Image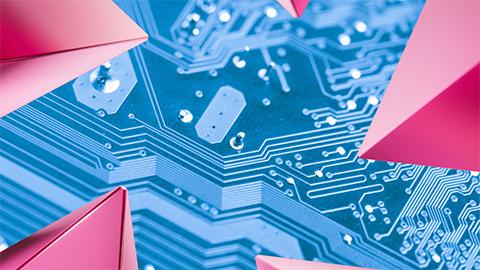 As with other industries, the telecom industry is grappling with sustainability; how can it minimise environmental impact and improve security and supply chain resilience, while delivering considerable growth in services and data rates? Addressing these challenges requires an in-depth knowledge of semiconductors: the functions they provide, how they are designed and where they are fabricated, along with future trends.
Silicon semiconductors form the largest group providing much of the data processing functionality and are used across telecoms from data centres to network routers, smartphones and IoT devices. 
Yet the introduction of 5G, IoT, and autonomous vehicles, alongside the need for more efficient renewable energy, is creating new demands that push beyond the capabilities of silicon. Compound semiconductors, which are made from two or more elements, are better equipped to meet these emerging needs. 
Historically, compound semiconductors were more costly to fabricate than silicon but recent advances in manufacturing are reducing the costs and opening-up new applications. Compound semiconductors have several key properties that outperform silicon:
Power: They can handle much higher power levels with lower losses, improving the efficiency of data centres
Speed: Compound semiconductors operate much faster than silicon, providing a pathway to higher data rates for 5G and beyond via base stations and satellite communications
Light: They can detect and emit light efficiently, supporting both optical fibre communications and future advances based on quantum technologies
Over the past decade, the Engineering and Physical Research Council (EPSRC) has invested around £1bn in compound semiconductor research. In 2017, Innovate UK established the Compound Semiconductor Applications Catapult to capitalise on the EPSRC investments and accelerate the commercial application of compound semiconductors. The CSA Catapult has created a world-leading innovation centre in Newport South Wales and will shortly open a Telecom Research Hub in Bristol. 
The recently published National Semiconductor Strategy highlights UK strengths in design / IP, compound semiconductors and a world-leading research and innovation ecosystem. 
The Expert Working Groups are supported by experienced technical staff and enabled to provide their views on the future capability development in their technology areas – identifying where connection between the technology areas is necessary and can be developed in the UK or with close international partners."
Dritan Kaleshi
Our focus areas
Diversification and innovation
Sustainability
Compound semiconductors
Resource
Are you interested in finding a career in connectivity? From Cyber Security Analysts to Fibre Engineers and even Project Managers, connectivity has something to offer almost everyone.