Image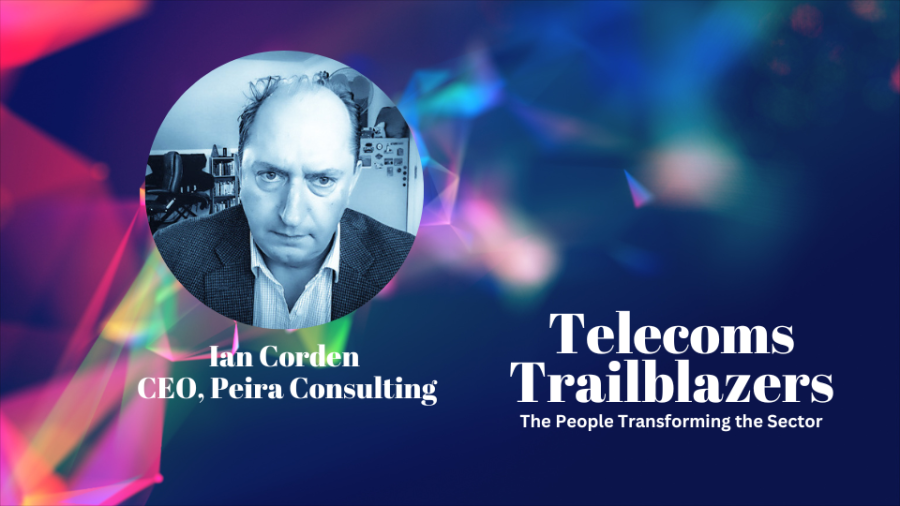 Hi, my name is Ian Corden and I'm the CEO of Peira Consulting, my own firm, which I founded in 2020, building on over 30 years of experience in global consulting and industry. 
Peira is a fully independent and expert consulting firm, dedicated to the telecoms and digital sectors. Our consulting services include strategy development, research, policy and regulation, procurement, commercial and tech diligence, and programme delivery. We operate at the intersection of R&D, technology, commerce, finance, economics, and practical programme delivery – which makes for complex and interesting engagements with our clients. 
One of the joys of having been in consulting for decades is having seen so many challenges and opportunities. That enables us to adopt an experience-led approach, mitigating risks for our clients, whilst bringing fresh perspectives. Further, with my role at the University of Surrey, I am actively engaged in R&D and policy development in telecoms, which means that I naturally lean towards the future, whilst staying firmly grounded with commercial realities in my business. 
The world is becoming more complex, more digital, and more volatile. As the telecoms industry continues to develop, and societies the world over increasingly rely on all things digital, the need for effective solutions to complex problems is increasing. For example, with 5G and now 6G wireless technologies, the industry is wrestling with how new innovations can support commercial imperatives such as reduced capital expenditures and increased profit margins. Some of the solutions there include infrastructure sharing, whilst maintaining vibrant competition levels 'higher' in the telecoms technology stack. Another major driver in the industry is spectrum sharing – enabling new innovative firms to enter the market at local levels. Picking up on UK Government themes, there are three important pillars for the industry: (i) security and resilience – ensuring that digital infrastructure provides a robust platform for digital services; (ii) economic prosperity – driving GDP with both telecoms services and supply chains; and (iii) global influence – ensuring that national interests are represented at a global level – telecoms being, intrinsically, a global industry. I'll also mention open technology standards – which many see as a way to increase diversity in telecoms supply chains – thereby increasing resilience, so the theory goes. 
1/ What do you enjoy most about working in this space? 
I think I was born an engineer. I'm one of those guys who used to take radios and things to pieces as a kid to see how they work. So technology has always been my thing. But engineering is an applied science. That means it's essential to understand finance and commerce too. They go together. It's no good designing a great bridge or a telecoms system if no one can afford it. Technology for its own ends has no meaning for me. 
2/ What's the most ridiculous thing you've done in the name of work?
Way too many to think of! I think I'll go for jumping into an ice-cold lake in Finland when I was with Nokia many years ago. Then there was the pool game in The Middle East with a crew of off-duty American soldiers and no shortage of beer. And, slightly more seriously, I'll mention the writing of an urgent and detailed technical report for a client whilst on a plane with plenty of time to spare – all of four hours.  
3/ What excites you most about working in telecoms?
I think it's the fact that the industry is always changing, and at present we're pretty much at an inflexion point – especially in the wireless sector: access to capital is limited, margins are under pressure, and value is very much with digital services. So telcos and vendors have to find a way to create new commercial models to tackle those challenges. Good consulting is all about addressing some of the business world's most complex challenges with independence, innovation, experience, balance, and breadth and depth as needed. I guess that's what drives me – deep curiosity, a desire to find things out, and bringing practical and pragmatic solutions for clients. Some of the best consultants and engineers are like dogs with bones; they won't let go until they get to the truth and effective solutions. 
4/ What would you like people to know about your work?
I think it's valuable to have a view of how varied consulting can be. The larger firms are naturally well-suited to situations where scale matters. However, large overheads often translate to large fees for clients. That may be okay where price doesn't matter and value does, but if effective solutions are not delivered to clients, then the value isn't realised. That's why our consulting model associates with several core values that we hold dear: (i) we treat our clients as individuals with important issues to address, never as sales targets; (ii) we deploy expert consultants properly matched to project needs, not folks from 'off the bench' whose first concern is on meeting utilisation targets, and (iii) our most senior consultants stay with our clients, ensuring that experience is effectively leveraged, rather than merely managing relationships and selling. 
5/ ​​Why is a vibrant, flourishing telecoms ecosystem important for the UK?
Telecoms and digital infrastructure, whether wireless or fixed, provide the foundation for modern digital services-based economies and a significant proportion of national GDP figures. With trillions of digital dollars and vital intelligence flowing over the world's telecom networks, their importance in the modern world and with national security cannot be understated. 
But telecoms also offer the potential for prosperity on the equipment supply side. With the development of open standards and innovative new commercial models and technologies, there is significant potential for economic contribution there too. 
Technology is increasingly being used as an axis for international leadership and growth by many of the world's nations. The UK must do the same – by creating the right conditions for inward investment, driving up the status of the engineering profession, and supporting education in science, technology, and business to the highest levels.