Designed to be an informal conversation that provides a glimpse behind the scenes, UKTIN speaks to the consortium about activities of the last three months
Image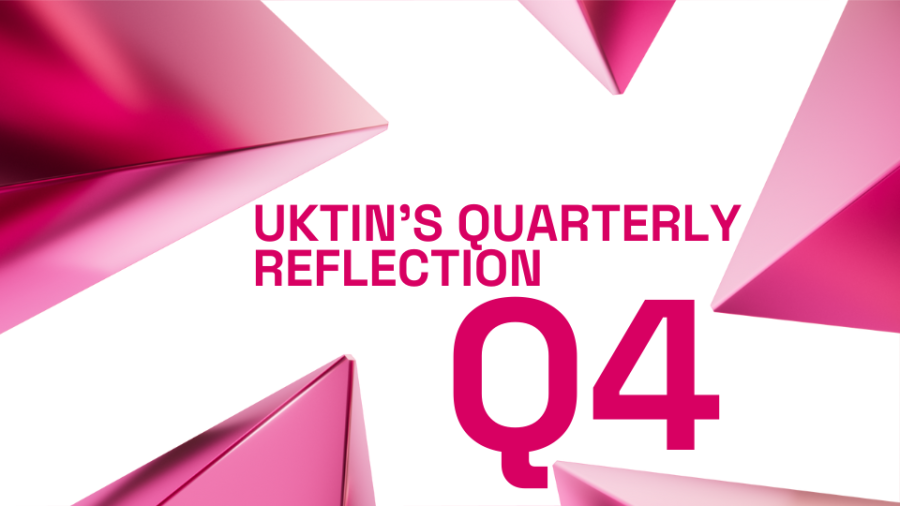 UKTIN's remit now includes adoption and it has broadened its standards work programme. What has this meant for you?
Nick Johnson, Head of UKTIN: "The Adoption extension is really important.  Many people couldn't understand why it wasn't in the original brief and breathed a collective, "Ah, now I get it" when it was added.  UKTIN makes so much more sense with Adoption included, completing the innovation chain from idea to deployed product.  In terms of Standards, as the telecoms supply chain became concentrated in fewer and fewer hands over the last twenty years or so, UK contributions, with some notable exceptions, had become unhealthily thin on the ground.  We're beginning the long road back and as they say, every journey begins with a single step."
Mario de Miguel Ramos, Cambridge Wireless: "In the work that Cambridge Wireless is responsible for, adoption is a natural extension of our previous work. It brings added value and opens up UKTIN's remit. When it comes to standards, we are excited to expand our events programme with a series of workshops, specifically tailored to SMEs in the UK."
Kishan Nundloll, Digital Catapult: "For us, this highlights the early success of having the right people discussing issues across the spectrum and these outputs and learnings sitting at the core of UKTIN. We see it as essential to be agile enough to listen and explore all topics and believe UKTIN is more than well equipped to venture into greater understanding within adoption and standards". 
Jon Hunt, University of Bristol: "For the University of Bristol, this has meant exciting and busy times. We are delivering the new Manufacturing Adoption Working Group (in partnership with our colleagues at the National Composites Centre) and the new Standards Working Group, while providing a Standards Champion to lead on the crucial Standards agenda. We're also producing a new suite of Standards and IP training, the first delivery of which will be before Christmas this year."
Lesley Holt, WM5G: "Adoption, at least from my angle, is a natural progression. It completes the value chain. The government has made a lot of investment in proof of concepts: for example, the 5G Testbeds and Trials Programme. But adoption is not happening to the scale and extent that is needed. There is still a challenge and a need for government intervention. There are key areas that have been chosen (transport, manufacturing, health and social care, and agri-tech), and it is now our goal to provide support for this mission. How do we enable adoption? We've got a good brief in terms of developing toolkits and information to get organisations on their journey."
What has your organisation been working on over the summer? 
Johnson: "I was certainly expecting things to cool off over the British summer (did you see what I did there?) but that just didn't happen.  The Standards and Adoption extensions were authorised at the end of June and getting those activities mobilised became a prime focus.  I'm happy to say that both are looking in great shape as we move into autumn."
Ramos: "In addition to the support that marketing and communications have been providing to the whole UKTIN team, it is worth highlighting that our adoption activities have begun in earnest. We have launched dedicated hubs for place and key sectors on the website and there has also been a workshop about agriculture, a field that DSIT wants to explore and that we've been enjoying digging into. The Cambridge Wireless team has also provided a significant amount of support to DSIT around different consultations, including the Future Telecoms Institute one. On the events side, August has been a little bit slower, as to be expected, but we have worked hard to create a comprehensive plan for events in the Autumn and beyond, and recently held the Open Networks Programme collaboration event, which was a real success."
Nundloll: " It's been wonderful to see all the work within UKTIN starting to gather pace: we have been working to bolster all the working groups which have had over 10 meetings throughout the summer, and have been continuously engaging with industry to keep the momentum flowing".
Hunt: "We've been focused on getting the new Adoption and Standards work moving forward alongside our two key UKTIN work packages - the Signposting and Discovery Service and the Innovation Platform with Innovation and Investment Workouts. We've just had another fantastic cohort participate in the Innovation Workout, comprising a diverse mix of start-ups looking at connectivity infrastructure, wireless technologies and Quantum. We've also been setting up and running three of the original Expert Working Groups we're responsible for (AI, Security and Optical Communications and Photonics)."
Holt: "Mobilising adoption has been our focus, and getting the working groups up and running. We are in the recruitment stage at the moment. We've continued our work with the  Talent Advisory Group and held our second session this quarter. We also launched the ambassador programme, which has focused initially on highlighting women from across our industry and delivered our first few career events. We have worked closely with the marketing team too: the website is brilliant, and there's lots more active content now around career pathways and roles. Clusters had a little hiatus but we did have the spotlight on Scotland over the summer which kick-started our intention to really dig into the capabilities and assets that exist across the UK. There's been lots going on in the background."
Has anything within the telecoms ecosystem caught your attention?
Johnson: "The fact that the UK is reassociating with Horizon is really important news. Another thing that has caught my eye is the response of DSIT to the ONE Programme entries. I think £88 million is a bit more than they expected to have in the fund initially, which is worth remarking on."
Ramos: "Arm's IPO because of the relevance it has to the UK and the world of semiconductors. Arm has been on a huge rollercoaster over the past few years, and semiconductors is an area that UKTIN is hoping to expand into because it has a major impact on telecoms."
Nundloll: "Digital Catapult has always been keen to engage across the whole telecoms sector and we have noted increased discussion about A.I, including interest in the mainstream about what it means for the current and next generation. It makes the work we are doing across the entire sector even more crucial and because of the amazing team and experts we have, will help us to maintain the UK's position as an innovator within tech." 
Hunt: "I'm excited to see the Government looking forward with ambition around how to boost the UK's long-term competitiveness in future telecoms and 6G by commissioning the feasibility study into a UK Future Telecommunications Institute. At the University of Bristol, we have been closely involved in early discussions about how such an institute could stimulate investment in UK telecoms and accelerate the commercialisation of telecoms innovation."
Holt: "The 5G Innovation Regions competition has occupied a lot of people in the ecosystem over the summer. A lot of our Cluster members have been a part of that and submitted bids. By default, the local authorities will be engaging with the supply side. The interesting part is how UKTIN plays a role in this. We already have the 5G Clusters Group and the adoption work is in place. The super exciting thing, though, is the outcome and how we work together with the successful consortia."
What can we expect to see from UKTIN in the coming quarter?
Johnson: "The rest of 2023 continues the breadth and depth of the UKTIN service suite.  I hesitate to use the word cruise, but for most of the UKTIN services, that's where we are.  We've taken off, reached cruising altitude and we'll continue to maintain course and speed to the benefit of the UK Telecoms Innovation community.  We'll see a couple of new things join the flight, such as Standards, Adoption and a steady improvement in the Research Capability Discovery Service.  Under the hood, the Expert Working Groups will be preparing their first Insights reports which will appear early in 2024.  As a consortium, we'll be reaching the halfway mark in the project at the end of the calendar year, and taking a moment for introspection - a course correction if need be, to continue the aviation metaphor.  We don't want to spend too much time navel-gazing, but it's an appropriate moment."
Ramos: "You can expect a packed programme. We will be holding our first workshop on standards. Alongside this, a new series of events will focus on investors, with the first taking place at the end of October. We will also be kickstarting our international outreach from a communications and Specialist Supplier Services perspective, supporting a wide range of companies based in territories of particular importance for the UK's telecoms international strategy."
Nundloll: "The launch of our strategic working groups will commence in the Autumn and we'll be looking to make announcements on how we will disseminate all the brilliant work that has happened over the first year of UKTIN."
Hunt: "By the end of the coming quarter, people will start seeing the benefits of the delivery we've been focussing on so far. We'll also be getting out and about. As well as promoting our Innovation Platform and Innovation and Investment Workouts at key third party events, we're planning some roundtable events to bring together industry experts and investor briefings. Now that we have so much in place, it's about spreading the word and making sure as many organisations as possible can benefit from the services offered through UKTIN."
Holt: "From a Talent perspective, we want to continue to reach out to young people. We are keen to go around the regions and have a big event at Nottingham Trent University planned. We're working closely with the ITP, looking at career paths. There will be a lot of scalable things via the website; we want to make tool kits. You can expect a lot more events, including various careers fairs and an invite to the NICC Open Forum. Excitingly, we also have an article with the Guardian coming out on the benefits of getting a job in telecoms. As for Clusters, we will be focusing on the East Midlands and potentially Cambridgeshire. Hopefully, we will have finished recruitment of the Adoption Working Groups and will be holding our first meetings. There's so much to look forward to."