Image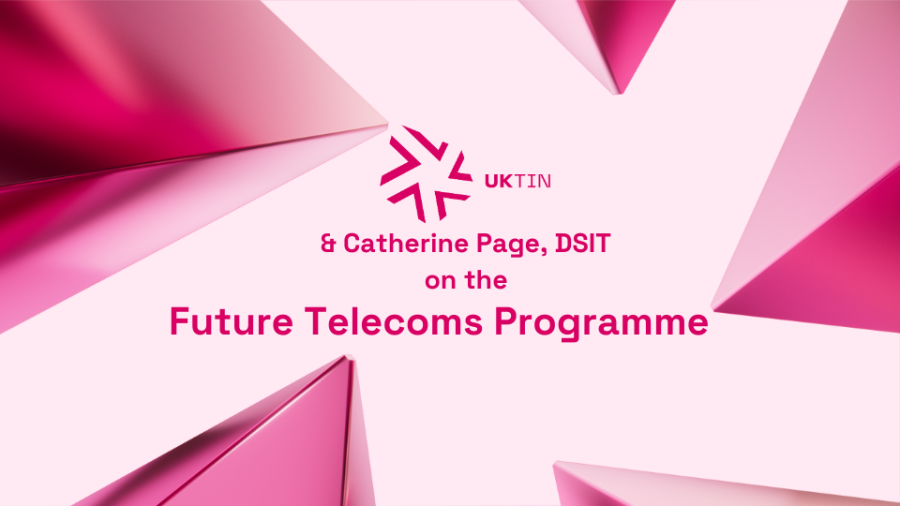 This new £70m fund launched on the 5th October 2023, will be delivered by UK Research and Innovation (UKRI). It invites applications for research and development (R&D) and commercialisation support up until March 2025, with a specific focus on the technologies underpinning future telecoms networks. Full information on how to apply and the process for submitting an application is available on the Innovate UK site here.
UKTIN sat down with Catherine Page, Deputy Director covering future telecoms technology policy in the Department for Science, Innovation and Technology to hear more about the newly launched fund. 
What does the term "future telecoms" mean?
Future telecoms has been identified as one of the government's five priority technologies which are critical to the UK in the Science and Technology Framework. We use the term to cover all future evolutions of infrastructure that carry digitised data. This reflects the expectation that the current hybrid of distinct communications technologies will change and likely connect and converge over the next 10-15 years. 
Through our £250m Open Networks Programme and the policies set out in the 5G Supply Chain Diversification Strategy the government has already identified and is providing funding for technologies such as Open RAN in 5G networks. We know that many technologies that will be central to future telecoms are already being developed and rolled out, with products and platforms being refined and expanded as the industry looks towards 6G.
So we've already got a great basis to build from as we explore the next phase of future telecoms technology. Specifically, we are thinking of: sixth generation wireless (6G) - including related management and use of radio frequencies (spectrum) - but also quantum communication technologies, next generation space-based communications, cloud communications and associated infrastructure, edge computing, and hardware advances, such as advanced fibre optics.
How does Future Telecoms fit into the government's broader telecoms strategy? 
The Future Telecoms Mission Fund is the next milestone in the government's approach to supporting the UK telecoms sector.
In April this year we published the UK's Wireless Infrastructure Strategy, which among other things set out our 6G Strategy and the UK's vision for the next generation of mobile telecoms. We outlined what we want and expect from 6G and this has guided our approach towards establishing three early-stage research hubs (detailed below) which will be supported through this £70m programme. 
To ensure we can meet the UK's future connectivity needs, we will support focused academic research across the key themes of the UK's 6G vision, including sustainability, accessibility, security and resilience. These hubs will be university-led and funding will be coordinated by the Engineering & Physical Sciences Research Council (EPSRC). 
Alongside the university-led hubs, the government also wants to support businesses in the UK to play a leading role in developing the products that will go into the next generation of telecoms. So the other part of the £70m fund announced today will be delivered by Innovate UK and will be aimed at helping companies to bring innovative solutions to market in three challenge areas (detailed below). 
The Future Telecoms Mission Fund programme is therefore looking across the innovation pipeline. It aims to further the government's goals of positioning the UK as a global leader in Future Telecoms, including 6G, by increasing investment in UK telecoms R&D, and improving the level of commercialisation of innovative intellectual property in UK telecoms research and innovation.  
How does this differ to other DSIT funds UKTIN stakeholders may have engaged with, such as the Future Networks Programme?
We know that many stakeholders will have worked on the 5G Testbeds and Trials and Open Network Programmes, which are delivered by DSIT's Future Network's Programme, and form a core part of the government's investment in telecoms R&D. This way of applying for funding will be a slightly different process as the Future Telecoms Mission Fund will be delivered by UKRI, jointly run by Innovate UK and the Engineering & Physical Sciences Research Council. UKRI already delivers Technology Mission Funds covering AI, quantum technologies and engineering biology so this adds future telecoms to that wider programme. More detail on the Technology Mission Fund can be found here and UKRI stands ready to help with any questions that applicants may have.
How much funding will be made available via the Future Telecoms Technology Missions Fund Programme?
This £70m will be split between supporting existing EPSRC Future Telecoms Research Hubs for early stage research, and supporting Future Telecoms Challenges for the development, prototyping, testing and/or verification of products/subsystems that are nearer to commercial application. 
The research hubs are made up of existing academic consortia and funding will be provided to them to expand and further their work on future telecoms. Companies can bid for the challenge aspect of the programme. Bids are invited for a sum of up to £7 million to fund a project that meets the funding criteria. You can find further detail on the funding areas below:
EPSRC Future Telecoms Research Hubs: Early stage research
Engage with the sector, catapults and internationally in order to:  Ensure 6G and Future Telecoms meet the UK's connectivity needs; Encourage UK participation in international Future Telecoms standards-setting; Develop a UK IP portfolio; Strengthen UK companies' competitiveness; Provide a foundation for spinout companies and attract investment into UK R&D.
Network of Networks: This Research Hub will focus on the development of technologies that will underpin a seamless, open and fully integrated network of networks. The work of this hub will seek to bring together and optimise previously separate technologies and deployment styles, including non-terrestrial and terrestrial networks. 
Wireless Systems, Spectrum & Wired: This Research Hub will be exploring spectrum innovation for future generations of telecoms. This will include investigating areas such as new spectral regions such as optical wireless, techniques for seamless and energy-efficient integration of different access technologies, and methods for joint wired and wireless network management.   
Cloud & Distributed Computing: This Research Hub will examine the edge-fog-cloud continuum of computation, with a focus on issues such as security, resilience, open networking and sustainability. A key aim of this Hub is to inform the design of new communication surfaces that cater to emerging computing capabilities, key infrastructures, and emerging end-user applications so as to answer problems that we cannot solve today.
The hubs will bring together experts from universities and national laboratories, as well as business development and industry partners to steer technology development from early stage to applied research phases. This collaborative environment will enable the testing of research findings with telecoms businesses to ensure commercially viable and useful outputs. The result of this focused collaboration towards clear commercial goals will drive UK capability in Future Telecoms, including 6G, and will underpin the UK Future Telecoms community.
Future Telecoms Challenges: Later technology readiness levels
Accelerate innovative solutions to market; Encourage disruptive collaboration across the UK's diverse Future Telecoms landscape.
Network of Networks
This challenge aims to foster innovation and technological advancements in networking by developing a system that integrates terrestrial and non-terrestrial networks. This integration will enable the delivery of high-speed connectivity to hard-to-reach areas, including densely populated urban areas, remote rural regions and maritime zones. By leveraging a combination of network segments, (which may include some combination of segments such as terrestrial and non-terrestrial , indoor and outdoor, Wi-Fi and cellular, or public and private), this challenge seeks to address the connectivity gaps and provide reliable, high-data-speed network access to underserved areas and deliver additional resilience and service consistency to already-served areas. This could include virtualised and software-based solutions.
Advanced Optical Networks
This challenge aims to drive innovation and technological advancements in the field of optical networking, specifically focusing on achieving step-changes in data rates, latency, and energy efficiency in both local and long-haul networks. As the demand for faster and more reliable communication networks continues to grow, it is crucial to push the boundaries of optical networking technologies, including beyond fibre, paving the way for future generations of networks.
Next Generation Wireless
The Next Generation Wireless Networks Challenge aims to drive innovation and technological advancements in wireless communications, especially transformational access techniques including technologies such as sub-terahertz, wireless optical, massive Multiple Input Multiple Output (MIMO), optical and sensing domains. This could include virtualised and software-based solutions. Next generation wireless solutions will enable new applications in areas such as agriculture, manufacturing, logistics, crisis management, etc. Application software and platform innovators must demonstrate the standardisation and benchmarking of the applications for the target industry as well as the market potentials to apply to other industries.