Image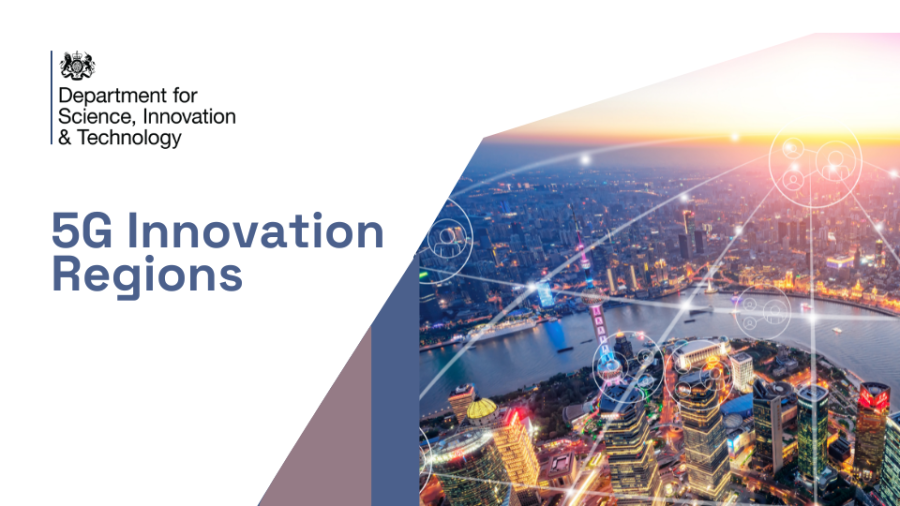 Applications open for £40 million fund for local and regional authorities to accelerate 5G innovation and pioneer digital connectivity for residents and business 
Winning regions will be supported to adopt 5G and other advanced wireless tech in driving innovation and opportunity across a variety of sectors, including public service delivery 
New fund supports Prime Minister's goal of growing the economy and creating better paid jobs through improved, secure digital infrastructure 
Local areas across the UK will be helped to boost their digital connectivity and develop advanced wireless technologies, thanks to a new £40 million fund that could power everything from innovative healthcare solutions to futuristic farming and smart systems to improve transport and cut congestion. 
From today, local and regional authorities can apply for a share of the multi-million-pound fund, designed to accelerate innovation in sectors such as advanced manufacturing, transport, agriculture and public services, helping to create better connected places across the UK. 
The cash boost will create 5G Innovation Regions by awarding funding to areas that can demonstrate how they will drive the development and adoption of 5G and other technologies. This will make sure communities in towns, cities and rural areas across the UK take full advantage of the benefits advanced wireless connectivity and digital technologies can provide, as well as attract commercial investment to grow the economy. 
Applications of the technology could include connecting sensors that analyse and help to improve air quality by better managing traffic, and deploying 5G-enabled drones that can scan fields and crops, collecting data on weather and environmental conditions. Research shows widespread adoption of 5G could result in productivity benefits of £159 billion by 2035. 
Minister for Data and Digital Infrastructure, Sir John Whittingdale, said: 
"Greater adoption of 5G across all corners of the country means better and more efficient public services, new opportunities for residents and businesses, and a boost for economic growth – and this new fund will put local areas at the forefront of Britain's world-leading 5G revolution. 

"5G Innovation Regions will be uniquely positioned to break down barriers which hinder the rollout of such technologies at a local level, ensuring every community in the UK can benefit from our digital revolution. 

"Improving connectivity through a world-class digital infrastructure is one of the core components of the Government's plans to level up every community in the UK, so I encourage local areas to apply and be ambitious in their vision for reaping the rewards of 5G." 
Improved connectivity through 5G and advanced wireless technologies could have a transformative effect on local areas, providing faster, more reliable, and more secure connectivity for residents and businesses, boosting local economies and improving the delivery of public services. 
The Government's Wireless Infrastructure Strategy sets out how advanced wireless connectivity will underpin new and emerging innovative technologies, ranging from Artificial Intelligence to self-driving vehicles, and digital twins – virtual environments where real-world objects like buildings or wind turbines can be tested under different conditions and perfected using advanced computer simulations. 
Hamish MacLeod, Chief Executive of Mobile UK, said: 
"Driving adoption of 5G is key to releasing the full benefits of this technology, and the Government's new £40 million fund to support Innovation Regions is an important step. 

"I look forward to seeing the active participation of local and regional authorities whose communities and businesses will be better positioned to realise the benefits of advanced wireless connectivity.

"Advanced wireless technologies will also be key to driving the Government's ambitions to harness digital transformation to build a more inclusive, competitive and innovative digital economy, supporting the creation of good jobs in new and emerging sectors, and providing reliable high-speed connectivity for residents and businesses. 

"To further accelerate the adoption of 5G in key sectors ranging from transport to manufacturing, the UK Telecoms Innovation Network (UKTIN) will also launch a nationwide campaign. Working alongside the 5G Innovation Regions, the campaign will bring together businesses who want to adopt 5G services with telecoms providers and vendors, helping them to understand the benefits 5G-enabled services can bring to their companies and how they can access this alternative technology.       

"Running until March 2025, the successful 5G Innovation Regions will be supported by Government through the DSIT Future Network Programmes team and UKTIN to develop their own digital ecosystems, take advantage of new and emerging technologies, and amplify local and national activities such as Project Gigabit, Investment Zones, and devolution deals to support local digital growth. Applications will close on 3rd September, and winning bidders will be announced later this year." 
Further Information
The Department for Science, Innovation, and Technology published the UK Wireless Infrastructure Strategy in April 2023, which sets out the strategic framework for the development, deployment and adoption of 5G and future networks. 
Further information on how to bid and application guidance for the fund can be found here. 
DSIT will be holding an online briefing event on Tuesday 1 August at 10:00am. Register your interest via this form. 
For any queries relating to the fund, please contact 5gadoption-enquiries@dcms.gov.uk. 
Applications close on Sunday 10 September at 23:59 GMT.