UKTIN is excited to announce that recruitment has opened today for our remaining four Expert Working Groups.
Image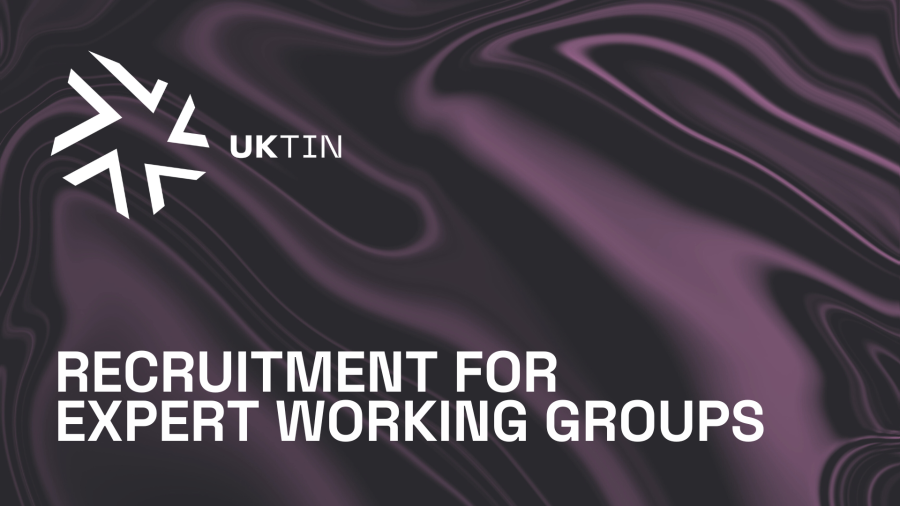 Introducing the Expert Working Groups
UKTIN provides an impartial, accessible and inclusive forum for the UK telecoms innovation ecosystem, and our Expert Working Groups will bring together collective expertise to explore the opportunities, gaps and challenges in the UK telecoms ecosystem. 
Those of you who attended our recent launch event will remember that our Expert Working Groups are each focused on a specific technology area, aligned to current telecoms research, development and innovation priorities.  We are pleased to now be recruiting members for the next four groups:
 Core Networking Technologies
Chair: Neil McRae
Facilitated by: Digital Catapult
This group will consider key evolutions of core networking systems and technologies across the telecoms ecosystem, particularly advanced digital infrastructure
Network Management
Chair: Tom Bennett, CTO, Freshwave
Facilitated by: Digital Catapult
This group will review management functions in telecoms systems, specifically how to assure a seamless customer experience regardless of who owns and provides the connectivity solutions. They'll explore emerging trends like cross-industry ecosystem collaboration to interoperability, and how this will enable faster adoption and reduce the cost to serve all customers.
Optical Communications and Photonics
Chair: Nick Parsons, CTO Communications, HUBER+SUHNER
Facilitated by: University of Bristol
This group will explore the ways in which all-optical infrastructure will drive increased performance capability across the telecoms landscape
Semiconductors
Co-Chairs: Rupert Baines and Andy Sellars, Strategic Development Director, Compound Semiconductor Applications Catapult
Facilitated by: Compound Semiconductor Applications Catapult
This group will focus on identifying the main drivers and trends relating to the materials and components used at a basic level in telecoms
Each of these groups will feed outputs into our three Strategic Groups: the UKTIN Academic Future Networks Strategy Group, UKTIN Telecoms Diversification Industry Coordination Group and the UKTIN Telecoms R&D Future Capability Strategic Leadership Forum.
The Role of Expert Working Group Members
We are looking to appoint c.10 individuals to each of the groups, with relevant experience in the group's focus area, and a desire to enhance the strengths of the UK telecoms ecosystem.
Specifically we are looking for individuals who can provide:
Demonstrable expertise: Members will be chosen based on their expertise in areas aligned to the group theme and / or focus area. They will be responsible for advancing knowledge, delivering impact, undertaking stakeholder engagement, illustrating community leadership and the broader telecommunications ecosystem in the UK. 
Strategic thinking: Members should be able to illustrate a strategic approach to the group theme and / or focus area and bring their own perspectives, backed up by evidence and expertise, to each session. This will include the consideration of research, skills and training, innovation, infrastructure, impact and interdisciplinary. 
A collaborative ethos: Members should be committed to making the most of collaborative discussion and fora, working with other members and groups to bring about the best possible outcomes for both UKTIN efforts and the broader ecosystem. Openness and adaptability will be essential to develop, test and challenge new approaches. 
Representation: Members should be willing and able to participate as representatives of the wider telecommunications community. They will gather insights and act as the voice of those who they work with, representing a collective point of view. Group membership will require two-way communication in order to gather different perspectives and capture key challenges, opportunities and gaps across research, development and innovation. 
Each group will meet every 4-6 weeks so members must be able to sign up to that time commitment in addition to, on an ad hoc basis, attending relevant open calls and participating in cross-group workshop activities.  Specifically, we would expect members to assign technical resources to support the needs of the group, contribute to commercial and technical requirements documents, and contribute to reports that feed into the UKTIN ecosystem. 
Benefits of Participation
UKTIN is a body dedicated to ensuring creativity, diversity, openness and interoperability are strengthened within the telecoms supply chain. Members will have the unique opportunity, as recognised experts within their fields, to input into discussions that will shape the UK's strategy to benefit the wider ecosystem. Specifically, members will have the opportunity to:
Inform the direction of key areas of focus for future telecoms R&D&I activity in the UK
Allow DSIT to create and propose concrete policy recommendations to shape interventions for governmental, regulatory and representative bodies
Formulate collective insights to determine UK strength areas in telecoms, as well as shared challenges and opportunities across the national and global ecosystem
Gain visibility of the opportunities available in the sector
Meet like-minded peers, and develop connections throughout the telecoms industry in the UK to drive forward a shared vision for the national telecoms innovation community
Connect with  other members and leaders of the telecoms community, as thought leaders in the field, bringing your experiences, ideas and knowledge to support the UK's telecoms capabilities.
Please note, membership of the Expert Working Groups is undertaken on a voluntary basis; positions are not remunerated.
How To Apply
To be part of the journey to transform UK telecoms, please submit your CV along with 300 words outlining your suitability to be a member of a specific group to enquiries@uktin.net. You should focus on how you will contribute to its key outcomes: identifying UK research, development and innovation strengths in the EWG domain; highlighting key gaps; and developing a roadmap to fill them. Please use "Expert Working Group Recruitment" in the subject line.
We are committed to providing equality and fairness for all and not to discriminate on grounds of gender, marital status, race, ethnic origin, nationality, disability, sexual orientation, mental health, or age.   We encourage and celebrate the different qualities that our colleagues, and others we work with, bring to our work, and we believe that seeing things from a wide range of different perspectives helps us to resolve problems, adapt our approaches and develop as an organisation.
We want to ensure diversity across our Expert Working Groups and we are keen to hear what you think you will bring from your own background and experience (beyond your professional knowledge and skills).
All applicants will be reviewed against a standard criteria by a panel made up of members of the UKTIN team.  All applicants will receive direct feedback.  Those wishing to understand more about the review process can contact enquiries@uktin.net.