Image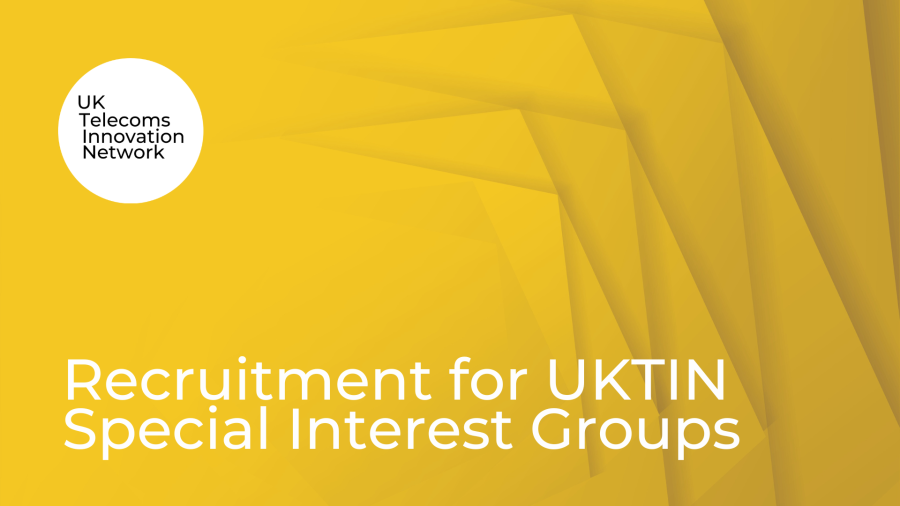 UKTIN is excited to announce that recruitment has opened today for the Chair positions for our eight Special Interest Groups.
Introducing the Special Interest Groups
UKTIN provides an impartial, accessible and inclusive forum for the UK telecoms innovation ecosystem, and our Special Interest Groups (SIGs) will bring together collective expertise to explore the opportunities, gaps and challenges in the UK telecoms ecosystem. Within and across all groups they will identify where the UK can lead and how the UK ecosystem as a whole can benefit from various opportunities. 
Each of the SIGs will focus on a specific technology area, aligned to current telecoms research, development and innovation priorities and opportunities:
Security - led by University of Bristol, this group will focus on new innovation opportunities for UK industry enabled by knowledge, novel algorithms and tools delivered by R&D projects
Wireless Networking Technologies - led by Digital Catapult, this group will consider key evolutions across telecoms, including O-RAN and next generation IoT
Core Networking Technologies - led by Digital Catapult, this group will explore areas such as softwarisation and cloudificiation, and the potentials of open networking, relevant APIs, protocols and processes
Artificial Intelligence - led by University of Bristol, this group will explore the broad ranging applications to AI techniques to specific areas of telecoms, and provide advice to all of the UKTIN working groups
Network Management - led by Digital Catapult, this group will review management functions in telecoms ystems, exploring how emerging trends and the interconnection of systems will lead to new management models
Materials and Components - this group will identify the main drivers and trends relating to materials and components used at a basic level in telecoms. The organisation leading this group will be announced soon.
Non-Terrestrial Networking - this group will explore a range of non-terrestrial network architectures and applications, including satellite systems and low to medium to high altitude fixed and mobile platforms. The organisation leading this group will be announced soon.
Optical Communications & Photonics - led by the University of Bristol, this group will explore the ways in which all-optical infrastructure will fuel increased performance capability.
The Role of the Special Interest Group Chairs
We are looking to appoint one Chairperson for each of the groups, with demonstrable expertise in the group's focus area, and a proven track record of unbiased, neutral and collaborative approaches to enhancing the strengths of the UK telecoms ecosystem.
The Chair will play a key role in the success of their SIG and specifically need to undertake the following activities:
Strategic leadership: providing leadership, direction and momentum to the group - and wider cohort of SIGs - to ensure maximum impact against defined objectives.  The Chairs will be expected to bring their individual views, experience and expertise to the groups to shape discussion, rather than acting as representatives of their organisation.
External relations: act as an ambassador for UKTIN, promoting our ideas and strategies, and where necessary representing UKTIN at external events and meetings.  There will also be a requirement to work closely with other chairs across the network.
Panel management: each SIG is expected to have c. 10 members, representing a diverse range of areas and bringing different points of view.  Chairs will play an active role in the recruitment of each SIG and then chair the panel on a regular basis, working with the secretariat.  They will be responsible for ensuring effective debate and collective decision making by creating a safe space for everyone and paying attention to group dynamics.
Each SIG will meet every 4-6 weeks so Chairs must be able to sign up to that time commitment in addition to, on an ad hoc basis, coordinating relevant open calls and invitations, participating in cross-group workshop activities and taking on an advisory role within the specific group theme to feed across all SIGs.
How To Apply
To be part of the journey to transform UK telecoms, please submit your CV along with 300 words outlining your suitability to chair a specific group to enquiries@uktin.net.  Please use "Special Interest Group Chair Recruitment" in the subject line.
The deadline for submissions is 5pm 10th February.
We are committed to providing equality and fairness for all and not to discriminate on grounds of gender, marital status, race, ethnic origin, nationality, disability, sexual orientation, mental health, or age.   We encourage and celebrate the different qualities that our colleagues, and others we work with, bring to our work, and we believe that seeing things from a wide range of different perspectives helps us to resolve problems, adapt our approaches and develop as an organisation.
We want to ensure diversity across our Chairs and we are keen to hear what you think you will bring from your own background and experience (beyond your professional knowledge and skills).